我的网站设计的文件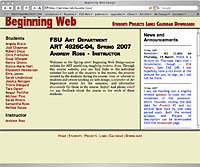 Beginning Web Design - the course website I created for my Beginning Web Design class, through which I share ongoing information with my students and provide access to each of their individual sites and projects. View the projects page to see some of the web assignments my students have worked on.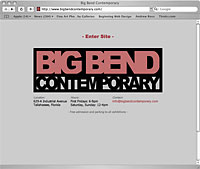 Big Bend Contemporary - the MFA program at Florida State University built its own gallery space in Tallahssee's Railroad Square Art Park this past year, and I designed the logo and the website for this exciting new exhibition space. As well as helping to run this gallery through my involvement in the League of Graduate Artists, I also exhibit my work here regularly.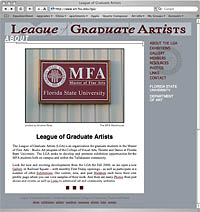 League of Graduate Artists - a site to showcase and promote all of the MFA students at Florida State University and our upcoming exhibitions. The site includes individual profiles for each of the graduate students (including my artist profile), photo galleries documenting each exhibition, resources for the general public and the MFAs, and information about the new MFA gallery at Railroad Square in Tallahassee.
Andrew Ross Photography & Video - my commercial web portfolio highlighting my many areas of commercial photography experience: publication and editorial work, advertising photography, portraits, headshots, architecture photography, documenting events & receptions, modeling portfolios, theater and dance images, photos of artwork, product photography, and documentary photography.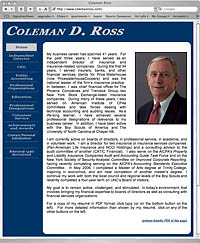 Coleman Ross - my father's on-line corporate resume website. After retiring from public accounting and chief financial officer positions in the insurance sector, my father and I created a website which serves as an immediate and extensive information source for search firms interested in his qualifications for board of director or consulting roles.
Additional web galleries I have designed
Community Art Project - I was a founding committee member to this program of the Chapel Hill Public Arts Commission in North Carolina, and continue to remain involved by designing and hosting the artwork galleries that accompany each annual exhibition. The individual galleries for each year are: Why? (2007), Lost and Found (2006), and Dream (2005).
my Personal Photo Pages - photo galleries of my personal (non-art, non-professional) work.
Carve Magazine - I built this gallery to highlight artwork that went along with this literary e-magazine, although the magazine has since changed ownership and discontinued the inclusion of cover artwork and an image gallery.
The EYE Project - a community-based artwork I created in 2005 consisting of hundreds of eye photos. For the web galleries, I wanted to represent the show as it appeared in the two locations where it was exhibited, as well as have an on-line gallery to allow looking at each piece individually.